Electromagnetic flowmeters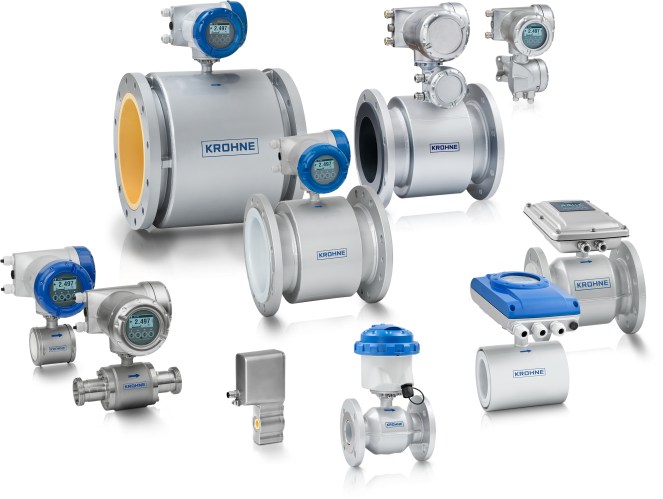 KROHNE has been the market leader in the field of electromagnetic flow meters for 47 years. Thanks to the unique combination of high technology and the simplest user interface, Krohne electromagnetic meters are applicable in all areas of the industry. In the food and beverage industry, where fruit juices are mixed, milk with liquid hops, and then stuffed under sanitary conditions.
In the chemical and paper industries where Krohne electromagnetic meters are used in measuring acids, alkalis, pastes, as well as all other aggressive media. In the metal industry where liquids contain a high percentage of solids. It is not a stretch to say that PHYSIKALISCH-TECHNISCHE BUNDESANSTALT (PBT) uses precisely the KROHNE electromagnetic meters in its calibration systems.
Electromagnetic flow measurement is based on Faradey's law. According to this law, voltage is induced in a conductive medium that moves in a magnetic field. This voltage is proportional to the flow rate of the medium. The transmitter amplifies that signal and converts it to standard outputs either current or pulse.
COMPLETE PRODUCTS OFFERING:
https://krohne.com/en/products/flow-measurement/flowmeters/electromagnetic-flowmeters/
POINTED OUT: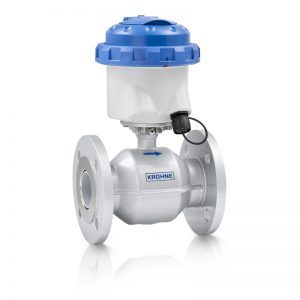 WATERFLUX 3070 V3 with P/T sensor
Battery electromagnetic flowmeter with integrated pressure and temperature measurement
Installation without the requirement for a straight section of the pipeline in front and behind the measure
3 independent measurements: flow, pressure and temperature
Modbus RTU communication
IP68 sensor and electronics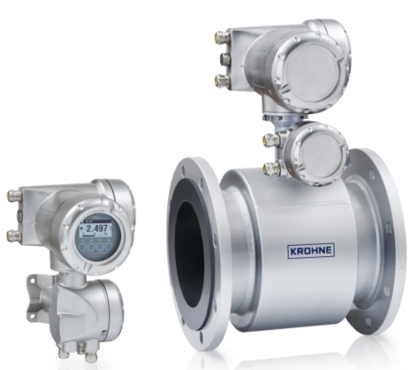 TIDALFLUX 2300 PF
Electromagnetic flowmeter for partially filled pipelines:
Reliable measurement of over 10% of pipe profile
Accuracy of 1% FS
IP68 in SS version
Advanced diagnostics
Easy installation with no maintenance required
On site verification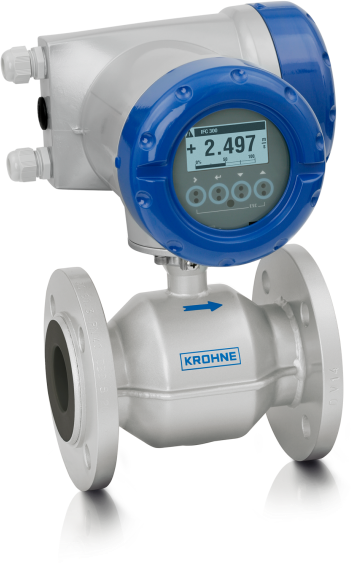 OPTIFLUX 2300
High accuracy (±0.15%), with CT approvals (OIML R49, MI-001)
Cost-saving option without grounding rings and other variants (IP68 etc.)
Flange: DN25…3000 / 1…120″, max. PN40 / ASME Cl 300
3 x 4…20 mA, HART®, Modbus, FF, Profibus-PA/DP, PROFINET